| | | |
| --- | --- | --- |
Toronto - Lakefront, Skydome*, CN Tower
LIVE! Camera Image - Current local Time / Date Archived images
( Refresh / Reload Page to Update ) Image captured July 23rd., 2006 at 9:05:15am Image captured May 24th., 2006 at 6:45:20am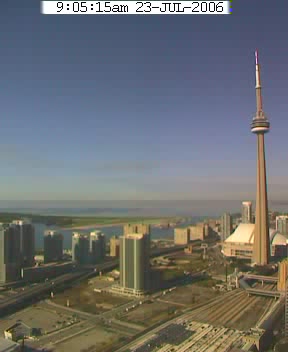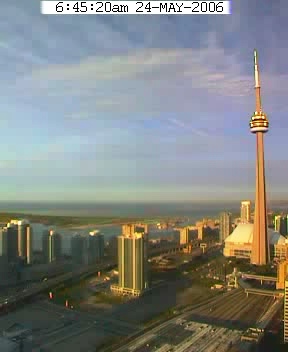 ( OITS 24/7 Web Cam) Looking West and South A Sunny Sunday Morning An Early Wednesday Morning { <-Back }
* ( BTW, ' By The Way ' in internet speak, Skydome is now known as " Rogers Centre " )
{ Click here - Ontario Investment & Trade Services - Web Site }
---
Tuning in Toronto
Easy Listening in the GTA - Live Radio Broadcasts
( some stations broadcast from the CN Tower )
( plus one of the best in Canada's west, Calgary )
( Audio Streaming -> Windows Media Player <or> Real Player <or> favourite MP3 Player )
( Check out KCRW 89.9FM ( lower center ) for info about streaming, links to software, updates & more )

------------------------------------------------------------------------------------------------- Site Navigation -------------------------------------------------------------------------------------------------
------------------------------------------------------------------------------------------------- Site Navigation -------------------------------------------------------------------------------------------------




Site Is Best Viewed At 1024 X 768 Resolution.
( Internet Explorer version 6+ with Font Size set to Medium )
Copyright Notices
Some of the Content and Images on this page (and others) is
Copyright: Ontario Ministry of Economic Development & Trade & ED&T Disclaimer
and / or Copyright: City of Toronto
All other Content and Images Copyright Don Valley REACT Inc. ©1998-2007.
All Rights Reserved. Unauthorized Use Is Prohibited.
This web site is maintained by the Don Valley REACT Inc. Team Webmaster
more information is listed on the

page

IP / Host Name:
This page was last updated: 2007-01-01 11:20:43 AM
0000503